Tux Advice & Etiquette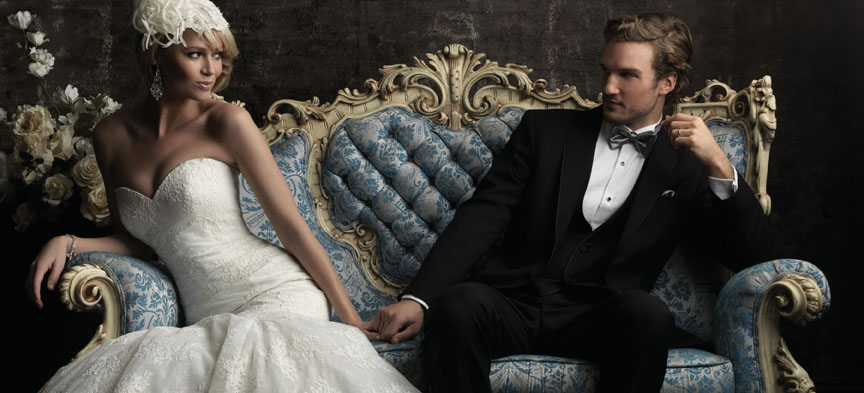 As you consider which Formal Dimensions tuxedo to select, there are several things to keep in mind:
The time of year.

The formality of the bride and bridesmaids.

The lapel style of the coat.

The time of the ceremony.

The cut of the coat.
If your invitation reads…. Or if your event is a (an)…

Black Tie

For a black tie event, tuxedos are mandatory. However, despite the name, you are not limited to just a black tie for your accessories. You can wear any style black tuxedo with any combination of accessories or colors to show off your own personal style. (Just make sure you don't outshine the guest of honor!) If you are not sure what to wear, neutral colors are always best for accessories (black, white, or silver) and a traditional one or two button notch tuxedo jacket is always a safe bet.

Black Tie Preferred/Optional

In this situation, the host would prefer that you wore a tuxedo, but it is not necessarily mandatory. However most guests in attendance will honor this request and wear formal attire. Remember, you can never be overdressed for these types of events, and for as little as $49.99, you can arrive looking like James Bond!

White Tie

This is a very formal event and the guidelines are usually very strict. Traditionally, these events require you to wear black tails with matching black pants, a white pique wing collar shirt, a white pique vest and bow tie, pearl cufflinks and studs, formal shoes, and white gloves. It is also customary to accessorize to express your individuality with items like top hats, canes, scarves, and pocket squares.

Cruise

For a cruise, you will usually get several opportunities to wear a tuxedo. In fact, most cruises require at least one night of formal attire. Appropriate styles for cruises include any black tuxedo, excluding tails, cutaways, and strollers, as well as a white or ivory dinner jacket, and your choice of accessories.

Quinceanera

An important part of Hispanic culture, this is a grand celebration of coming of age for a girl's 15th birthday. For these events, any tuxedo style is acceptable as well as your choice of accessories. White and ivory suits are very popular for these special events.

Opera

Typically, attending an opera is a formal event and a very traditional one. Standard cut, black tuxedos are the most preferred and any combination of black and white accessories.
——————————————————————————————————————————————————-
Not sure what to wear to certain events? Are you uncertain as to what are the proper customs for the different names given to different formal events? Check out our Formalwear Glossary and clear up any questions you may have.
The "Traditional" Approach

These are respected traditions to follow in the selection of your men's formalwear. Your individual choices should be based on the time of your ceremony, the season, and the need for formality. The types of events and their looks are as follows:

The "Contemporary" Approach

The Contemporary Look allows tuxedos to be selected with modern interpretations of formal dress codes. The guidelines for this category are relaxed with freedom of choice. These are your event choices with this type of approach:

Ultraformal Daytime

This look uses the "morning suit" and is recommended for weddings before 4pm. The groom is dressed in a cutaway coat with striped trousers, a grey vest, and a striped ascot or a 4-in-hand tie. Attendants and fathers are outfitted the same, or they may choose the matching stroller coat with possible variations in the tie and shirt.

Ultraformal Daytime

This features a traditional daytime look with a modern twist. The groom dresses in an updated cutaway with pleated, striped, or matching trousers.

Ushers dress in matching stroller coats, which really sets the groom apart. Fathers have a choice of either style tuxedo.

Formal Daytime

With a ceremony before 4pm, the groom chooses a grey stroller with striped trousers, a pearl vest, and a 4-in-hand tie with a white laydown collar shirt.

Ushers and fathers are dressed identically to the groom but with a different boutonniere.

Formal Daytime


This is the most popular style for today's weddings. You set the style! The groom's choices include all types of formalwear in any color. Ushers can match the groom, or utilize tail and tuxedo combinations.

Colored accessories compliment the bridesmaids' dresses, while fathers choose coordinating formalwear. Guests are welcome to wear black tuxedos with fashion accessories.

Ultraformal Evening

This look creates the most formal wedding you can plan. It is centered around a Black Full Dress Tailcoat, with a white vest and bow tie for the groom and his wedding party. (Fathers included)

At your option, the guests can be outfitted in a similar full dress look or a slightly less formal tuxedo. Gloves, top hats, and canes are often used. Consider outfitting drivers in tuxedos as well.

Ultraformal Evening

With this look, grooms can choose from a black, white, grey, or another colored tailcoat, with matching accessories, or formal white. Ushers' style will be similar, with the most formal look sporting identical tailcoats. Vests and ties can be used to coordinate with bridesmaids' dresses.

Fathers can be outfitted identically to ushers or in matching tuxedos. As an added plus, "Black Tie Invited" is recommended for guests.

Formal Evening

The groom can choose from a black tuxedo year-round or a white dinner jacket in warmer weather. Both can utilize complimentary accessories.

The men in the wedding party dress the same as the groom, perhaps with different accessories or a boutonniere. "Black Tie Invited" is recommended for the guests.

Formal Evening

When you want to express your personal preferences, this look is the proper choice. Grooms can choose from a tailcoat, tuxedo, dinner jacket, or any of the new fashion coat styles. Any color is acceptable, with light colors popular in the summer.

New fashion shirts, vests, and shoes can help you choose your individual style. The wedding party can be dressed similarly to the groom, but if the groom chooses tails to stand out, the ushers should wear similar color tuxedos. Fathers can choose coordinating tuxedos, and guests are invited to dress in black tie.